Home | Contract and project proposal | Annexes | Objectives | Research team | Scientific reports | Published papers | Doctoral thesis | Results and Real-time control
<![if !vml]><![endif]>

ROMÂNIA

"Dunarea de Jos" University of Galati

<![if !vml]><![endif]>
Project code: PN-II-ID-PCE-2011-3-0641
Titlul proiectului: CONDUCEREA AVANSATA A SISTEMELOR DE FABRICATIE REVERSIBILE, DE ASAMBLARE SI DEZASAMBLARE, UTILIZAND ROBOTI MOBILI ECHIPATI CU MANIPULATOARE ROBOTICE
Project title: ADVANCED CONTROL OF REVERSIBLE MANUFACTURING SYSTEMS OF ASSEMBLING AND DISASSEMBLING USING WHEELED MOBILE ROBOTS EQUIPPED WITH ROBOTIC MANIPULATORS
Logo 1: Assembly/Disassembly Mechatronics Manufacturing Line Served by a Mobile Robot Equipped with a Robotic Manipulator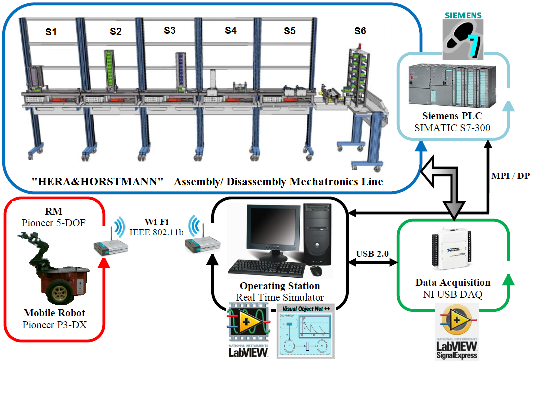 Logo 2: Processing/Reprocessing Mechatronics Manufacturing Line Served by a Mobile Robot Equipped with a Robotic Manipulator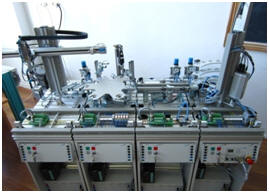 IDE

AS project (Exploratory Research Projects)
call-PN-II-

PCE-2011
PN-II-ID-PCE-2011-3 – PROIECTE DE CERCETARE EXPLORATORIE
Project title in English:
ADVANCED CONTROL OF REVERSIBLE MANUFACTURING SYSTEMS OF ASSEMBLING AND DISASSEMBLING USING WHEELED MOBILE ROBOTS EQUIPPED WITH ROBOTIC MANIPULATORS
Project title in Romanien:
CONDUCEREA AVANSATA A SISTEMELOR DE FABRICATIE REVERSIBILE, DE ASAMBLARE SI DEZASAMBLARE, UTILIZAND ROBOTI MOBILI ECHIPATI CU MANIPULATOARE ROBOTICE
MATHEMATICS, PHYSICAL SCIENCES, INFORMATION AND COMMUNICATION, ENGINEERING, UNIVERSE AND EARTH SCIENCES
Systems and communication engineering: electronic, communication, optical and systems engineering
University "Dunarea de Jos" of Galati
Alina.Voda@ugal.ro, Alina.Voda@gipsa-lab.grenoble-inp.fr, Adrian.Filipescu@ugal.ro
The main idea of the project, launched for the first time, is the advanced control and balancing reversible manufacturing lines (lines performing both, assembling and disassembling) using wheeled mobile robots, equipped with robotic manipulators. It proposes a new approach to manufacturing flow optimization problem: aggregation problems at levels of continuous and discrete event in a hybrid system. The control objectives are: balancing flows of reversible manufacturing by developing optimal loading strategy workstations, advanced robotic systems control for precision movement with a certain path, for variable load, but in temporal windows, ordering the manufacturing correlated with dynamic control of the queue and the control of robotic systems as continuously nonlinear autonomous system. Hybrid system will be structured in two subsystems: the discrete event system and the continuous system for advanced robotic control to ensure robust functioning of balancing, assembling and disassembling. The study will focus on defining a hybrid control system which automatically synthesizes a hybrid supervisor. Modeling, balancing and control of reversible manufacturing lines, serviced by robotic manipulators mounted on wheeled mobile robots, is addressed for the first time and is an absolute novelty part of the proposal. Making reversible and controlling an assembling line, in order to perform disassembling, served by wheeled mobile robots equipped with robotic manipulators, is also a premiere.
manufacturing systems, wheeled mobile robots, robotic manipulators, hybrid systems, discrete event systems